Welcome to shinyCircos-V2.0!
The Circos diagram was born in 2009, which was published by Martin Krzywinski as a visualization tool in Genome Research for comparative genomics.
The Circos diagram has made frequent appearances in international renowned journals, including Nature, Science, Cell, etc.
shinyCircos is a web application for creation of Circos plot developed by Yu et al in 2017, which has been recognized by many users for its graphical user interface and ease of use.
shinyCircos-V2.0 is the updated version of shinyCircos. In shinyCircos-V2.0, we developed several advanced features, designed brand-new user interface, and fixed bugs detected in shinyCircos.
The structure of a Circos diagram is shown in the figure below.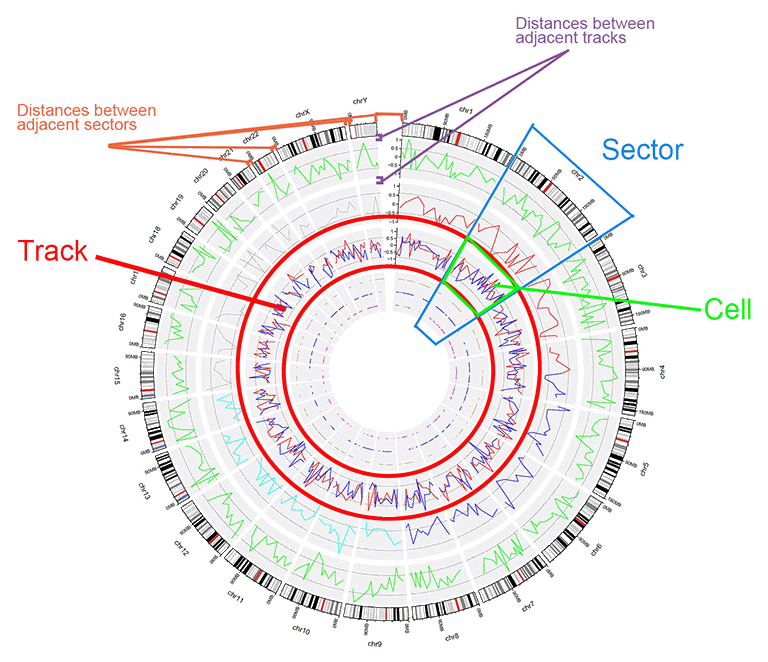 The basic structure of a Circos diagram.
Different tracks of a Circos diagram.
| | |
| --- | --- |
| Step 2. Choose an example dataset: | Different parameters were pre-setted for different example datasets, which can not be adjusted. |
---
Chromosome data (used to define the chromosomes of a Circos plot)
| | |
| --- | --- |
| File name | Name of the uploaded file. |
| | |
| --- | --- |
| Chromosome data type | Chromosomes data can be either general data with 3 columns or cytoband data with 5 columns. The first 3 columns of either type of data should be the chromosome ID, the start and end coordinates of different genomic regions. See example data for more details. |
Example 2

Input files for example 2

Example 3

Input files for example 3

Example 4

Input files for example 4

Example 5

Input files for example 5

Example 6

Input files for example 6

Example 7

Input files for example 7

Example 8

Input files for example 8

Example 9

Input files for example 9

Example 10

Input files for example 10

Example 11

Input files for example 11

Example 12

Input files for example 12

Example 13

Input files for example 13

Example 14

Input files for example 14

Example 15

Input files for example 15

Example 16

Input files for example 16

Example 17

Input files for example 17

Example 18

Input files for example 18

Example 19

Input files for example 19

Example 20

Input files for example 20

Example 21

Input files for example 21

Example 22

Input files for example 22

Example 23

Input files for example 23

Example 24

Input files for example 24

Example 25

Input files for example 25

Example 26

Input files for example 26

Example 27

Input files for example 27

Example 28

Input files for example 28

Example 29

Input files for example 29

Example 30

Input files for example 30
Software references

1. R Development Core Team. R: A Language and Environment for Statistical Computing. R Foundation for Statistical Computing, Vienna (2016)
2. RStudio and Inc. shiny: Web Application Framework for R. R package version 1.0.0 (2016)
3. Gu, Z. circlize: Circular Visualization. R package version 0.4.15 (2017)
4. Neuwirth, E. RColorBrewer: ColorBrewer palettes. R package version 1.1-2 (2014)
5. Dowle, M. data.table: Extension of Data.frame. R package version 1.14.2 (2021)
6. Victor Perrier. shinyWidgets: Extend widgets available in shiny. R package version 0.6.4 (2022)
7. Eric Bailey. shinyBS: Add additional functionality and interactivity to your Shiny applications. R package version 0.61 (2015)
8. RStudio and Inc. DT: An R interface to the DataTables library. R package version 0.22 (2015)
9. Andrie de Vries. sortable: Enables drag-and-drop behaviour in Shiny apps. R package version 0.4.5 (2021)
10. Yang Tang. shinyjqui: easily add interactions and animation effects to a shiny app. R package version 0.4.1 (2022)
11. Dean Attali. colourpicker: A colour picker that can be used as an input in Shiny apps R package version 1.1.1 (2021)
12. Gu, Z. ComplexHeatmap: efficient to visualize associations between different sources of data sets and reveal potential patterns. R package version 2.14.0 (2020)
13. Ron Ammar. randomcoloR: Simple methods to generate attractive random colors. R package version 1.1.0.1 (2019)
14. Dean Attali. shinycssloaders: Add Loading Animations to a 'shiny' Output While It's Recalculating. R package version 1.0.0 (2020)
15. David Granjon. bs4Dash: Make 'Bootstrap 4' Shiny dashboards. R package version 2.2.1 (2022)
16. Paul Murrell. gridBase: Integration of base and grid graphics. R package version 0.4-7 (2014)


Further references

This application was created by Wen Yao and Yazhou Wang. Please send bugs and feature requests to Wen Yao (yaowen at henau.edu.cn) or Yazhou Wang (gentelmanwang at gmail.com). This application uses the shiny package from RStudio.

Citation

Wang et al. shinyCircos-V2.0: leveraging the creation of Circos plot with enhanced usability and advanced features. iMeta. 2023
---
Citation
Use shinyCircos-V1
Contact us
---
If you have any questions or suggestions about shinyCircos, please do not hesitate to contact us.
E-mail: yaowen@henau.edu.cn or gentelmanwang@gmail.com
QQ Group: 495027653
Telegram Group: https://t.me/+NadFeZazBBc2Y2U1